The cost associated with premium contingent labor, like travel nurses, is always higher than salaried permanent nursing positions and coronavirus (COVID-19) exacerbated an already-significant situation by creating an environment in which these critical resources are in even higher demand. Recent estimates state that the global contingent workforce industry generated around $171.5 Trillion in 2021. At the same time, around 90% of healthcare executives said that they utilized travel nurses within their organization. For better or worse, the healthcare industry has become heavily reliant on travel nurses and contingent labor in general. Naturally, this means staffing costs have increased; and there are no signs of a reversal.
This presents a delicate situation for hospital leaders. How do nursing and human resources executives make sure that high-quality patient care is delivered at the bedside while balancing mounting financial pressures?
How Much Does a Travel Nurse Cost a Hospital?
On average, travel nurses in the US make between $65-85 per hour for normal hours. There are, however, other factors at play that could increase these costs significantly:
Specialization
Working odd hours or overtime
Paid training sessions
Considering this is per nurse, per hour, you can see how these labor expenses quickly add up, particularly during unexpected spikes in patient volumes.
Defining the Problem With Rising Travel Nurse Costs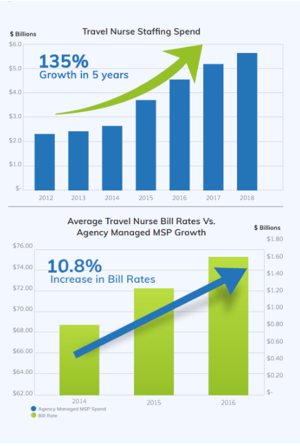 According to Becker's Healthcare, "Continued high demand for nurses, particularly experienced and specialty nurses, is expected to sustain growth in the utilization of travel nurses at healthcare facilities for the foreseeable future."
While the national average travel nurse bill rate continues to rise, how do you make sure that you are not overpaying for resources?
Too often healthcare organizations have contracts with multiple staffing vendors with varying rates, or they have a single contract with an agency-led managed service program (MSP) in which the client is dependent on the agency to set a fair market rate.

Agency providers are not likely to volunteer to reduce rates when organizations are willing to overpay. Periodically conducting market analysis is the best way to force transparency and identify successful rates for the market and realize potential cost savings. A Market Rate Analysis is the process that studies all rates being paid for the same service in a given area and determines a competitive range of rates that is high enough to be competitive and get orders filled without overpaying when the supply is sufficient. This critical component to travel nurse cost control should be conducted to ensure rates are competitive and suppliers are providing CNOs with the negotiated rate structures.
Steps to Control Travel Nurse Costs
Healthcare delivery organizations need talent acquisition and workforce management solutions that enable them to deliver high-quality patient care at the bedside while minimizing the premium cost of doing so. CNOs can begin to take control of travel nurse costs by utilizing a vendor-neutral vendor management system (VMS). A vendor-neutral VMS will give leadership a clear view of where and how often each department is using temporary help to swiftly translate utilization data into action—resulting in reduced cost per travel nurse and provide insights to focus efforts and prioritize the hiring of qualified permanent staff.
Most importantly, a vendor-neutral solution ensures that the most qualified nurses, not just the nurses that the agency managing the MSP has available, are proposed for the job. Too often, agency-led MSPs limit the flow of job orders to the market for up to 28 days, creating delays in filling job orders and serving to maintain rates at an artificially high level.
Read, 'The Importance of Vendor Neutrality & Why it Should Matter to You.'
Save on Travel Nurses with Managed Workforce Solutions & VMS Technology
CNOs face many challenges with regard to managing travel nurse costs. From a lack of consistent process for sourcing, onboarding, and compliance management - to the lack of visibility into travel nurse usage and spend, the process of identifying and selecting a solution can be complex. This is where a managed workforce solutions program with a proven track record and a powerful VMS can save you time and money. Here's how:
Vendor-Neutral Evaluations
Use advanced data analytics to determine which current vendors are in your best interest to continue relationships. All vendors should get the orders at the same time and pay the same admin fees.


Manage Standard Agreements
Develop, distribute and execute standard agreements with all vendors qualified to provide services.


Establish Pre-Screening Standards
Create requirements for initial candidate screenings to be conducted by agencies.


Configure VMS and Deliver Real-Time Reporting
Setup the VMS to provide real-time dashboards and reports that are delivered to key stakeholders allowing for enhanced visibility into utilization, vendor performance, and quality of staff. A robust VMS will deliver actionable business intelligence that is monitored against KPIs with files all in one central location.


Train Vendors
Train each contracted agency on how to use the VMS to efficiently identify needs and submit qualified candidates.


Program Management
Coordinate all aspects of ongoing, day-to-day program oversight and support for your staffing offices and talent acquisition teams. The VMS team can also work to expand and refine the vendor panel as needed.


Fee Structure
HWL operates as a vendor-funded model. The healthcare provider organization pays nothing for the services that HWL provides.
Around 71% of hospitals adopt an MSP or VMS to help manage contingent labor forces. Additionally, around 89% of those hospitals that have adopted MSPs or VMSs stated that cost savings were the primary goal for these partnerships. Unfortunately, over the last few years, Agency-based MSP programs have fallen short of controlling both unit costs and utilization.
That's what sets HWL apart from the rest. We keep a pulse on current market dynamics and knowledge of advanced data analytics to provide a VMS that streamlines travel nurse activity and spend transparency.
Our Three-Step Approach to Managing Agency Spending
Dynamic Sourcing Process that combines market-based pricing analysis, proprietary real-time market demand data, and unique insight into agency delivery capabilities. We help you

source talent

locally, regionally, and nationally for any of your contingent staffing needs. Our SourceDirect method also helps contain staffing costs through our contingency-based fee model in which you pay for performance.


Vendor-Neutral Approach to agency management that creates an open marketplace for agencies to compete with each other to deliver the highest qualified professionals reducing time-to-fill and ensuring the best match for the healthcare provider organization's needs.


Advanced Proprietary VMS Technology with customized workflows for all disciplines and the ability to optimize utilization of internal resources, reducing dependency on an outside agency.
Through a combination of proprietary next-generation technology, advisory services, internal agency services, and customizable MSP services, HWL delivers a Total Talent Acquisition solution that lowers overall contract labor costs while reducing administrative burden.
For more information on a better way to manage travel nurse costs or to request our services contact us, 833-HWL-INFO.